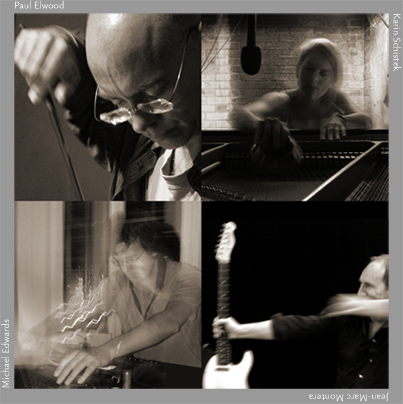 Michael Edwards
Born Cheshire, England, 1968
soprano and tenor saxophones, laptop and MIDI wind controller
An early taste for heavy metal led through Beethoven to the weightier end of modern composition (with oboe playing along the way). Over-exposure to computer music whilst living in California and Paris led to temporary breadwinning as a software engineer but more importantly the skills to develop a range of computer music techniques from real-time digital instruments to self-contained algorithmic composition environments. Michael lives in Edinburgh and is active as a composer and performer playing saxophones, laptop, and MIDI wind controller. www.michael-edwards.org
Paul Elwood
banjo
First place, Kansas State Banjo Championship. Worked with guitarist Eugene Chadbourne, cellist Hank Roberts, bluegrass legend John Hartford, and performed on MTV Europe. Fellowships include American Academy in Rome, Helene Wurlitzer Foundation of New Mexico, MacDowell Colony, and Camargo Foundation. Received Sigma Alpha Iota Inter-American Music Award and featured as composer/performer in Moscow, Mexico City, Wollongong (Australia), Darmstadt, and all over the U.S. Music performed by the symphony orchestras of North Carolina, Charleston, and Wichita, Callithumpian Consort, pianist Stephen Drury, Tambuco (Mexican Percussion Quartet), and pipa-player Min Xiao-Fen. Publications by C.F. Peters, Smith Publications, and Western Wear Music Publishing.
Jean-Marc Montera
electric and 12-string guitars
French guitarist with origins in rock, specialising in free improvisation and sound experimentation. Jean-Marc exploits the full range of amplified and acoustic strings: resonances, percussion, distortions, extensions, and misappropriations of all styles. He has collaborated with Fred Frith, André Jaume, Barre Phillips, Thurston Moore, Lee Ranaldo, Louis Sclavis... Co-founded GRIM(Group for Musical Research and Improvisation) in 1978 and in 2001 l'Ensemble d'Improvisateurs Européens which specialises in the interpretation of existing and new graphic scores. With more than thirty albums recorded with different groups, his first solo album, Hang Around Shouts, was released in 1995 with the label FMP (Free Music Production).
Karin Schistek
piano, nord rack 2 synthesiser
Now living in Edinburgh, Karin was born in Tyrol, Austria, in 1977. Her free improvisation experience began in early childhood and ranged from solo recorder playing in a wardrobe to national radio broadcasts on piano inspired by the paintings of Werner Otte. Partly hidden whilst studying the classical piano in Salzburg and Vienna, free improvisation has become the centre of her musical interest, in particular the integration of avant-garde classical inspired techniques and sonorities into foreign musical contexts.